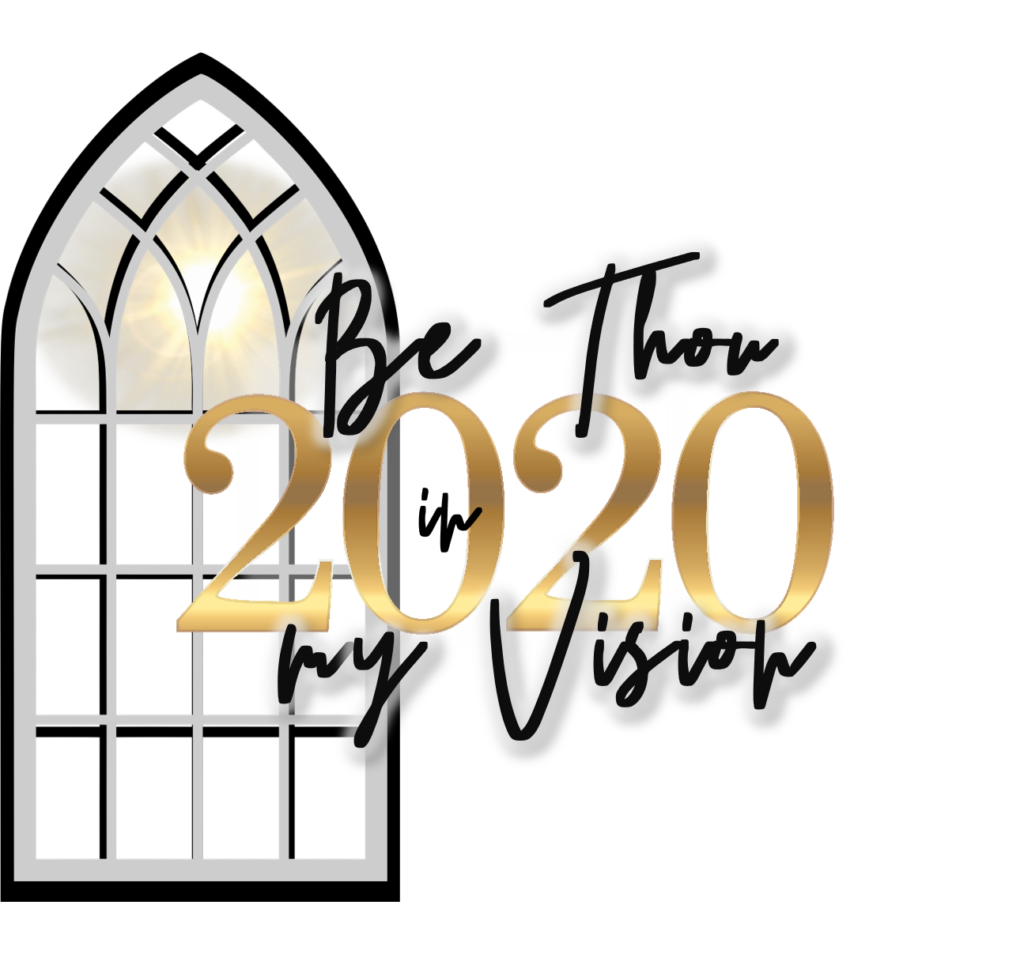 A few days ago, I finally relented and went to get my vision checked. Sure enough, I needed an adjustment in my prescription…and the dreaded bifocals. I don't know about you, but this week, I've found I need my vision adjusted in other ways!
When I designed a cover and theme for the new year's bulletins, I knew it wasn't especially clever or original. I was actually pleasantly surprised I didn't see more "2020 vision" themes online. I think many churches avoided it like a trite joke! We sang "Be Thou My Vision" in our worship service each month, and I used select lyrics of the song in our calendars. The first Sunday of the new year, I also included a poem, "The Gate of the Year" by Minnie Haskins, as a bulletin insert. I kept one inside the cover of my Bible for review. At the time of printing, I mistakenly made double the amount of copies. I kept the stack around intending it as scrap paper, but as I looked at it today, I decided to include them in this week's bulletins again as a reminder of Who leads us through the unknown.
In the last few years, I've taken more notice of a certain kind of approach to the new year. I hear things mainly along this line, "This past year really stunk. I'm hoping next year is better!" I find it rather silly, because unfortunately, every year seems to bring new disasters, deaths, and devastation; there's really not much one can do about it! We take our days as they are given. We have no idea what is in store for us; simply hoping it's "better" seems pointless. I know trusting God, come what may, is a better alternative:
And I said to the man who stood at the gate of the year:
"Give me a light that I may tread safely into the unknown."
And he replied:
"Go out into the darkness and put your hand into the Hand of God.
That shall be to you better than light and safer than a known way."
So I went forth, and finding the Hand of God, trod gladly into the night…
How could we have known what lay ahead of us here in Edinboro?
In January, our small town dealt with news of someone intentionally releasing bedbugs in the local Walmart. It made national news! Then they were at the university. Our neighborhood Facebook page turned into a warzone over the ordeal! Then, we made the news again as a tragic fatal shooting took place in our Wendy's restaurant. People were left stunned, angry, and broken. However, our community came together in our shock and grief to support the staff who were traumatized that day. Surrounding areas rallied with us to support the family in an outpouring we'd never seen. (I found it interesting that no one on the neighborhood page even mentioned the bedbugs after that. We all just made adjustments.)
Of course, the political scene's ugliness has been background noise for months, and the repeated freeze and thaw wearied us. Record numbers of absences accumulated at our schools as a cycle of sickness affected families and workplaces. It has been an especially bad flu season. Our little church dwindled to even smaller numbers through the winter months due to a variety of illnesses.
In far away China, we heard news of a new, rapidly spreading virus—the Coronavirus. We saw missionary friends evacuate to Thailand to work remotely. We watched it spread to Italy and prayed for our missionaries who ended up in quarantine. It was rumored that it would soon affect us. It was difficult to separate out fact from fiction in the news media hype. It was declared a pandemic. Still we tried to be calm about "COVID-19." We watched it come closer–a state here and there, to confirmed reports of it being in our own. Then, suddenly, in a week, things changed rapidly. First, a county was shut down, then the entire state's schools and colleges. People worried about quarantine have panicked. Grocery stores and retail stores here and across the state have been wiped out (s'cuse the pun) of toilet paper, hand sanitizer, and disinfectant wipes. If you made fun of everyone else, didn't get any, and need some, you're out of luck until the next shipment—if you can get there in time! That's not all! Meats, medicines, pet food—many shelves are bare. We've never seen anything like it.
The future seems very uncertain. Ryan and I are out of our school-related part-time jobs for the foreseeable future. Decisions about closing the church and canceling upcoming activities are painful but necessary. We love the fellowship of church family and we've been planning outreach events for the upcoming months. Also, while we may not necessarily fear the coronavirus, the gravity of its financial impact is another story.
As I look at the things I chose to encourage myself and our church with in the new year, I am reminded that I MUST trust the God Who knows all things. First, from "Be Thou My Vision," there is the reminder that waking or sleeping, His presence is my light; He is my soul's shelter and high tower; I am not to worry about riches—He is my Inheritance now and always! Lastly, whatever befall, He is to be the pursuit of my heart, my vision—the lens through which I view EVERY circumstance, for HE is Ruler of all. That hymn is chock full of vision-adjusters! Secondly, in the "Gate of the Year" poem, I am reminded to keep my hand in the Hand of God. It is "better than light and safer than any known way." I am not putting the song or the poem in place of God's Word. They simply remind me of many truths in Scripture, and that is where I draw my strength and reassurance. It is there my vision becomes sharper, focused.
"The LORD is my rock, and my fortress, and my deliverer; my God, my strength, in whom I will trust; my buckler, and the horn of my salvation, and my high tower." Psalm 18:2
"The name of the Lord is a strong tower; The righteous run into it and are safe." Psalm 18:10
"From the end of the earth I will cry to You, When my heart is overwhelmed; Lead me to the rock that is higher than I." Psalm 61:2
"Lord, You alone are my portion and my cup; You make my lot secure." Psalm 16:5
"Lay not up for yourselves treasures upon earth, where moth and rust doth corrupt, and where thieves break through and steal: But lay up for yourselves treasures in heaven, where neither moth nor rust doth corrupt, and where thieves do not break through nor steal:For where your treasure is, there will your heart be also." Matthew 6:19-21
"You do not know what will happen tomorrow. For what is your life? It is even a vapor that appears for a little time and then vanishes away." James 4:14
"How precious also are Your thoughts to me, O God! How vast is the sum of them! If I should count them, they would outnumber the sand. When I awake, I am still with You." Psalm 139:17-18
"I lay down and slept; I awoke, for the Lord sustains me." Psalm 3:5
"Many are the plans in a person's heart, but it is the Lord's purpose that prevails." Psalms 19:21
I'll close with this one:
"I have set the Lord continually before me; because He is at my right hand, I will not be shaken." Psalm 16:8